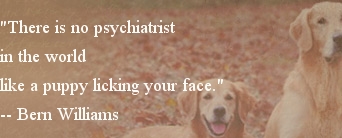 We are committed to supporting high-quality show-dog organizations. You are welcome to email us for information on qualified organizations in your area. The following national organizations offer extensive resources for their respective breeds:

•

The American Shih Tzu Club: http://www.shihtzu.org/ 
•

The American Lhasa Apso Club:  
            http://www.lhasaapso.org/

•

The American Spaniel Club: http://www.asc-
           cockerspaniel.org/

When evaluating local organizations, we recommend American Kennel Club-affiliated groups. If in doubt, contact us by phone or email; we know many club and kennel operators personally, and we're happy to provide recommendations. 

Pepper: (PPP Pepper Nadkova Laine)   Pepper is a golden color, though was a darker sable color as a puppy. She is around fifteen pounds. I expect her puppies would make good walking companions.

Born: September 14, 2017

Sire:  PPP Companion Jack

Dam:  PPP Chestnut Laine

Charlotte: (PPP Charlotte Akina Jane)   Charlotte is a smaller female weighing in at a little over twelve pounds. She is friendly and likes to be held and loved, but still enjoys a nice run.

Born:  September 1, 2017

Sire:   PPP Reginald Designer 

Dam :  PPP Faith's Akina

​Destiny is our largest female weighing in at nineteen pounds. She enjoys being outdoors, but also loves attention and lots of affection.

​Destiny: (PPP Destiny Dawn)

Born: October 20, 2018

Sire: PPP Kahuna (Sarg)

Dam: PPP Faith Akena

​Patsie: (PPP Patricia Jean) Patsie is our solid black coloured female. She weighs twelve pounds. She enjoys attention but is also a calm and obedient dog with a pleasant personality.

Born: March 22, 2018

Sire: EZ Lovin Tucker

Dam: PPP Midnight Doulce

PPP Little Lady Luna   Lady truly loves to be loved. She will take all the lovin she can get. She weighs twelve pounds, but often produces smaller puppies.

Born: May 17, 2016

Sire: E Z Lovin Reginald Designer (Reggie)

Dam: PPP Midnight Dolce (Mindy)

​Lucy Anne is full of energy and is fitting in well. She is a full sister to Zoe from a later litter. We look forward to seeing how she does when she is ready to be a mother.

​PPP Lucy Anne

Born: March 29, 2020

Sire: Joyaseda's Moroso Amigo

Dam: PPP Melody Pond

​Zoe sports our new white & red colouring coming through in our Amigo offspring. She is slightly smaller that some of our other females, but is doing well as a mother, and is a pleasant member of the household.

​PPP Zoe Life

Born: December 31, 2018

Sire: Joyaseda's Amoroso Amigo

Dam: PPP Melody Pond

​Rhema Rose (Remi) Our newest addtion Remi is carrying the bloodline from our retiring male, Reggie, and has his black & white markings.  She is a sweet puppy.

PPP Rhema Rose

Birth: March 20, 2021

Sire: EZ Lovin Reginald Designer

Dam: PPP Patricia Jean

NOW FOR OUR MALE FRIENDS

Havanese are such 'people' dogs that we have our males living with family friends so that they can have individual love and attention.  It would be difficult for us to integrate the males and females together in our home.

​PPP Joyaseda's Amoroso Amigo

Born: February 14, 2017

​Sire: Joyaseda's Doctor Pepper

Dam: Joyaseda's Brooklyn on Fire

​With Amigo we have introduced the red color into our puppies. It has been fun seeing this unique colouring coming out in some of our litters.

​               

​PPP Moshi Fernando James

Born: July 15, 2018

​Sire: Joyaseda's Amoroso Amigo

Dam: PPP Compay Jill

​Moshi is Amigo's son. He is the dog sitting up behind Amigo in this picture. He is a happy young fellow.

​Pedro Parker

Born: November 24, 2019

Sire: Dreams Come Tru Havanese Jack O

Dam: Moorshavanese Ambre

​Pedro is a chocolate Havanese affectionately known as Coco. He has just entered our breeding program and we are really enjoying his puppies.

Nasheta:  Nasheta was a fun-loving loyal friend. She was our very first Havanese, sadly we recently had to say good-bye to her.

Born:  March 3, 2005 Sire: Setacane Red Rider (USA) Dam:  Freedom's Black Diamond

Missy:  Missy though retired, belongs to Faith so is still with us. Missy was a puppy from Nasheta's second litter, and her father was a champion.  Missy is the mother of Akena and Melody.

Born: December 9, 2007

Sire:  CH Lynyear Pocotesoro Van Gogh (USA)

Dam:  Nasheta

Toby: (CH Pocoteseros Howls at D Moon) Toby was a wonderful breeding male for us.   He was shown as a puppy and received a best puppy in group award.  He is really affectionate and what he  wants most is simply to be loved.  His great temperment is being preserved in our next generations of puppies, but for him he is now fully retired and continues to live with his own family where he lived even while he was being used as the sire for our earlier puppies. 

  Born: October 3, 2005 Sire:  CH Jespersen's Dox Quixote (Den) Dam:  Pocotesoro La Nino Del Destino

Over the years we have also had puppies go their families from mothers Duchess, Tilly, Pitch, Boo and Anastasia.  These gals have all now gone to their forever family homes.

             Charis                                 Akina                        Goldie                                QT                                 Fanny 

E Z LOVIN REGINALD DESIGNER (Reggie)  

Born: October 4, 2012

Sire: CH Hycrest Under the Covers

Dam: E Z Lovin Cashmere

PPP KAHUNA (Sarg)  

 Born: February 18, 2013

 Sire: Toby

 Dam: MIssy

E Z LOVIN TUCKER  

Born: April 18, 2012

Sire: Camilla's Finni)gan

Dam: E Z Lovin Miss Bonnie