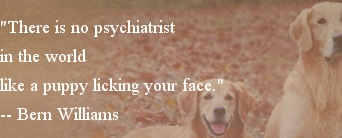 Hello Mac and Lorraine.

As you know, our dog, Jasper, has been a constant companion and friend to our next door neighbour, Bud Green.  Bud passed away last week and everyone has been commenting about how special it was that Jasper went to his house everyday .  They loved each other!  A couple of years ago, when Bud's wife was really suffering with Altzheimer's, Jasper was the one that helped her through some lonely times.  Jasper is so calm  and attentive to people.  She loves to be close to people all of the time.   She truly is a loving and constant companion to our family, and even to our dear neighbours.   She is one of a kind! 

Wendell and Faye Leytham

Stoney Creek  ON  

Alie is adjusting to her new home quite well, I think. Here she is conquering the grass in our backyard.

Winston

...He's very smart. He sits on command and is getting close to potty trained - he goes to the door and scratches - as long as we are on the ball, he goes outside. But if we're to slow....

Thanks again!

  All is great with Romi. He is turning 4 months old and was fully potty trained a few weeks back and

  such a great addition to our family! He has a lovely personality.

  Very smart little guy!

  Chase was asking what happened to Romi's brother Winston and hope he is doing well.

  Emoji

​Hi Lorraine and Mac,

2 weeks at our home, Jefe is doing well! Last night he slept through the whole night! He is learning and growing so much. He is an active curious fellow, and we love having him in our family! This is his 2 week photo, he is resting between Greg's feet. He loves our yard and being out in it. 

Hope you are well, and enjoying your summer.

This is Lilly

(We have taken the liberty to add some captions. This does not necessarily reflect the thoughts of Lilly :) )

So you want to borrow my toy?

I'll keep my eye on you:)

One has to take care of one's toys.

(Here is Lilly's real character.)

Hello Lorraine & Mac,

It's been just over a week since we picked up our little Lilly. She has brought so much joy to us and everyone she encounters. Her tail wags like crazy whenever someone approaches her.

She has been to the hotel (where I work) where everyone fell in love with her. It was pretty funny to see several men in suits and my Executive Chef on the ground playing with her. She's also had several visitors and enjoys all the attention she gets. She is so friendly and playful.

She has no shortage of toys and things to play with. Each day she seems to pick a favorite of the day and sticks with that particular toy. Randy has been teaching to her retrieve a little ball and bring it back – and she does a pretty good job! We have certainly learned to put a toy in her mouth when she bites us with those sharp baby teeth! Ouch! She also tries to nip at our pant legs or toes. We've learned to wear shorts at home and thick socks! Ha! Ha!

She has been sleeping through most of the nights. There have been a couple occasions when she has woken up Randy and it's because she wanted to go to the bathroom. She learned very quickly to go on the pee-pads and then does her #2 when she goes out for walks. She originally didn't think too much of the leash – but is learning that it means she gets to go for a walk – so she tolerates it more now.

She does well in the car and today while she was outside exploring – she heard an airplane. It's so cute to watch her tiny face try to figure out where a new noise is coming from. She does not seem to flinch at thunder (which is a good thing since we've had so much of it). I must also tell you that she is smitten with the sound of the piano. I am not sure if that is because she heard it at your home – or whether she just likes it. But she stops and listens intently. So cute! ......

Just thought you'd like to hear how her 1st week went. Thank you again for blessing us with her. 

Yeah! Yogi is 1 year old!!! Thank you again for raising such a handsome and happy dog! We are blessed as he has brought so much joy to our family.

Our Little Lady Luna with our niece.

Tomorrow Abby will be one year old .She is the happiest most precious little dog and we have had sooooo very much enjoyment from her She is very spoiled and we don't care she is constantly at my husbands side his great companion.

Thank you for picking Abby for us she is the best 

Lucky

Who says a little dog can't protect you!

Hello:

Pickle's birthday is fast approaching .

I thought you might enjoy a couple of pictures. He is smart and listens well. He loves packing something in his mouth and playing ball. He knows where he put things and if you ask he will bring it to you. He finds the most interesting places for a snooze.