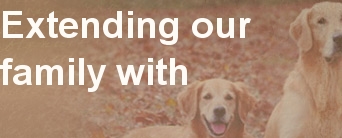 Here we are as the  Parker family when we began  breeding the havanese dogs in 2006.  We received our first havanese puppy through friends after our olderst daughter volunteered to care for two of their puppies while they were away for six months.  We fell in love with Nasheta and she became ours in the end. Nasheta originally came from a breeder in Saskatchewan who encouraged us to try breeding the purebred registered havanese.  She was a great mentor and it became a real family affair!  Originally we had one male and three females.  Over the last number of years we have learned a lot, enjoyed some lovely puppies, and met many wonderful families.  Our original dogs are retired now but we have preserved our bloodlines and introduced new ones which we think are only strengthening the quality of our dogs. 

Familes change and grow.  Now it is just Mac & Lorraine at home, though family comes to visit and they still enjoy playing with the puppies.

 Our goal continues to be to have our dogs and raise our puppies in a home setting.  Our dogs sleep in their kennels at night and live with us during the day. The mothers and their puppies spend the first few weeks with us in the kitchen area so that we can keep a close eye on them.  This also allows the puppies to get well acquainted with the  sounds and activities of a busy household.  When the puppies become more active and needing more space we move them downstairs where they are easier to care for.  Even then we often bring the puppies up for exercise and more plalytime with us

If you are new to our site and to your search for a havanese dog you may be wondering why we give you such detail about our family, but over the years we have found that those who are looking for a havanese have two things in common.  They tend to be people who have 'done their research' and know that this is the kind of dog that they are looking for and then their next priority is that the puppy that they choose has been well socialized and comes from a caring and reputable breeder.  You want to know a little about us. :)  I am trusting that this helps.  

Please go to the Current Puppies page to see the timeline 

for puppy availability.

THE PARKERS 

WHO RAISE THE PETS

2017 Update

​Here are our girls with their dogs. Sadly this year we had to say good-bye to Nasheta (on the left) our original Havanese.  Missy her daughter is retired, but is still enjoying her senior years with us.